Patio season is always met with a great amount of enthusiasm in Toronto after our long and dreary winters. This year though, for obvious reasons, we are particularly thrilled at the prospect of spending time outdoors and leisurely dining al fresco. The funny thing is, after such a long hiatus from the restaurant scene, we're finding ourselves having to wrack our brains to come up with restaurants to go to and remembering whether or not they have a patio!
If you find yourself in the same boat, we've done the Google-ing and scoured OpenTable for you! Here's a little refresher on dining options in a handful of neighbourhoods across the city (and also where you will find us sipping our chardonnay)…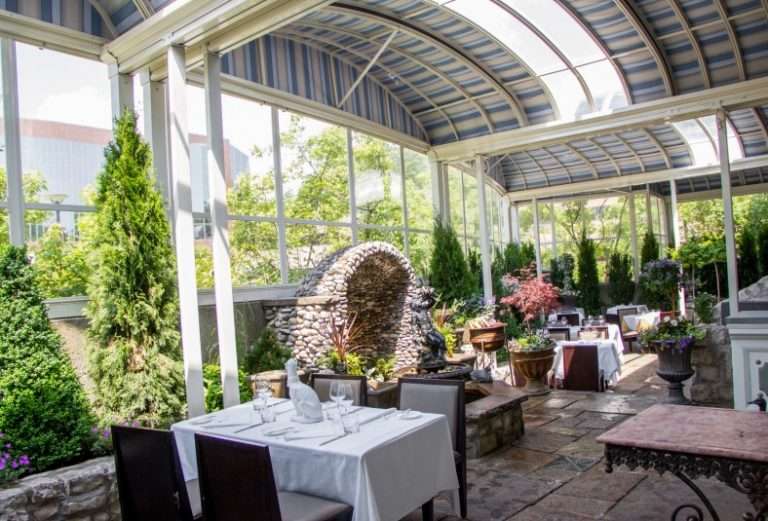 In the Yonge & Yorkmills area, Oliver & Bonacini's Auberge du Pommier has been a Toronto establishment for years and years. In the past, it has been a popular venue for weddings and other celebrations and it's easy to see why. The French menu is always seasonally delightful and the setting, as the name suggests, transports you to an Auberge in the South of France. Plus, they have a charming garden patio that is lovely for day-time dining and incredibly romantic in the evening. 
In Midtown, from the creators of Terroni and in partnership with Cumbrae's, Stock TC is a new destination for not only your groceries (on the main floor) but also fabulous outdoor dining above. Along with the hand-crafted pastas and pizzas you've come to know and love at Terroni, enjoy Cumbrae's steaks and burgers overlooking Yonge on this roof-top garden patio. 
An original Rosedale spot, The Rosedale Diner invites you to brunch and dine casually on their quirky but cozy little back patio. Their lamb burger is a must for dinner but we also love their Middle-Eastern-inspired brunch menu. With culinary delights such as their 'Hummus Meh-Tam-Tem' (Israeli hummus with poached eggs, harissa tomato sauce, falafel & pita), you're sure to enjoy a breakfast that is far from typical.
In Yorkville, Bar Reyna is open and offers a series of dishes with Greek, Turkish and Spanish influences. Constructed around trees and with a retractable roof, this hidden patio is shady, intimate and a true gem.
Near Trinity Bellwoods, there are several options but we are partial to La Palma. Though we will miss dining inside (we are rather fond of their decor complete with water-colour-inspired walls, adorned with brass light fixtures), the picnic tables on their pop-up patio will allow us to enjoy the modern-takes on Italian delights we adore.
It doesn't need to be Tuesday to have tacos! Fonda Lola offers tacos on an adorable patio in the Queen West area. Though in the midst of the hubbub of this neighbourhood, at Fonda Lola you will find a surprising sanctuary surrounded by foliage and great cocktails.
King West is another area that offers quite a few options for patio dining but we are particularly looking forward to seeing how French bistro, Lapinou, has reinvented itself in an alleyway terrace. With leafy ferns and twinkly lights overhead, we suspect eating our duck breast en plein air will feel more Parisienne than ever before.
Many of the patios we've already mentioned, though wonderful in their own way, are street-side makeshift patios. The Broadview Hotel's rooftop patio however, is truly something to see. A great place to watch the sunset and get a 360-degree view of our city, this rooftop offers a great bar menu with diverse snacking plates.