Think about the last time you entertained guests or how you spend most mornings and evenings… What's the one room that everyone seems to flock to? Chances are, it's your kitchen. We've come a long way from the Downton Abbey days of "the help" being out of site and out of mind in a dimly-lit basement! These days buyers have come to expect an open-concept with the kitchen as a central and integral part of the home. Kitchens are no longer just a necessary evil for food-prep but rather, they have become an incredible design opportunity. Beautiful custom cabinetry, eye-catching fixtures and reliable brand-name appliances are just a few of the things our clients tend to look for in a home. A well-appointed and up-to-date kitchen is not only a great way to entice a prospective buyer but it also adds value and can positively affect the sale price. So if you're looking to sell, critically evaluate your kitchen before you list. A kitchen renovation may be worth the time, cost and effort in the long run. Here are four things to consider if you decide to take the plunge…
1. Think About the Flow
Having a kitchen that is visually stunning is all well and good but you also have to think about the flow. When working with a professional to design your kitchen for resale, think about how kitchens are used. Generally speaking, the more open it is, the more functional it will be. Gone are the days of narrow galley kitchens so if space allows, open things up. Next, consider storage. Buyers want easy access to utensils, dishes, pots etc. Having places to store dry goods are important too. A nice, large, island can be a great feature aesthetically but it's also a place to prepare food, store kitchen-related items, dine, gather round during cocktails and a surface for kids to do their homework. If there's room, a kitchen table nearby is also nice to have as an alternative to sitting on barstools.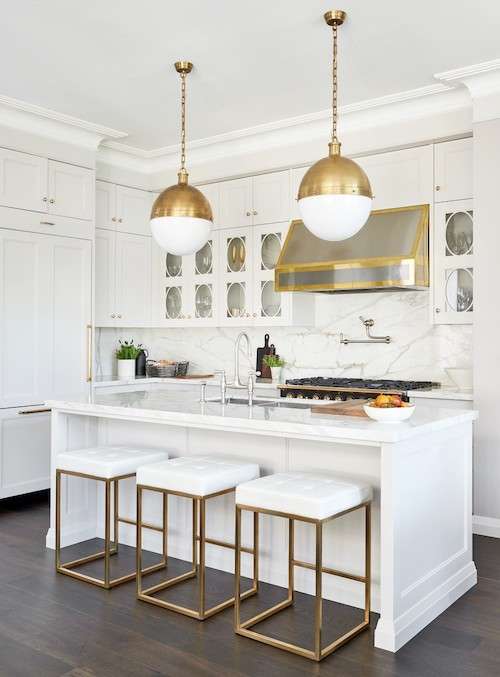 2. Light it Up
Our sister company, Homekin, has previously discussed the virtues of having fabulous lighting. In a kitchen, it's especially important. Ideally, you want to layer your lighting. Having LED pot lights is useful for tasks that require bright lighting but even with a dimmer switch, they're usually not the best choice for creating a soft ambience. In addition, we urge clients to select a few pendants to hang over their kitchen island. It's amazing what two gold-trimmed globe pendants can do for the overall look of the space, as they tend to create an appealing soft glow. Regardless of which brand and style you go with, this is an area where you can afford to choose fixtures that are a current and trendy.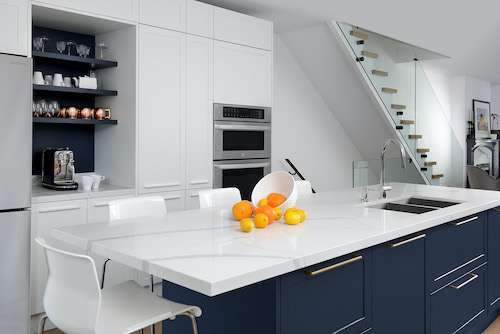 3. White is Not Always Right
In days of yore, we used to tell clients to go with white. White walls and white cabinetry used to be the go-to answer when renovating and redecorating your home for resale. Today, it's more of a case by case basis. Although a white kitchen can be and always will be lovely in the right space, it's not always the answer. Instead, consider the overall aesthetic of your home and choose colours that make sense and flow with the general look of your home. In the example above, the homeowners opted for deep-navy cabinetry for their island, which resulted in a clean and striking look that will appeal to many. 
We're not suggesting that you should make radical and experimental decisions but rather, we urge you to weigh out your options carefully. Sound intimidating? Chat with a professional and go through their portfolio to find a look that will work with your home and attract buyers.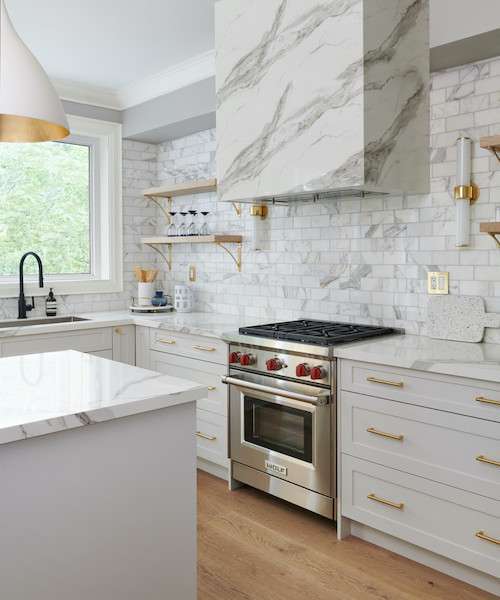 4. Invest in Appliances
We completely understand that it's hard to justify the upfront costs of renovating a home you're not going to live in for much longer. But having been around the block a few times, we can say with confidence that there are some things that are just not worth skimping on. When it comes to renovating your kitchen, we highly recommend installing some new brand-name appliances. A kitchen that contains an unmistakable Wolf oven and cooktop, for example, tends to attract buyers and gives them confidence that other appliances and features of the home are also of good quality. If budget allows, the Subzero name goes a long way for fridges and for dishwashers, clients often look for Miele. These are brands that are known to stand the test of time.