Along with kitchens, bathrooms are met with the harshest criticism when it comes to putting your home on the market. As they are a deeply personal and intimate space, they are held at a higher standard plus, to renovate them is often a costly affair. For those reasons, if you're considering listing your home, it's worthwhile to take an honest look at your bathrooms and ask yourself, if you were a buyer, would you be ok with the state they are in and, further more, would you be willing to pay top dollar?! If the answer is no, then we would strongly encourage you to renovate before listing in order to get the asking (or beyond) price that your home deserves. But before you start tearing anything out though, here are a few things to consider…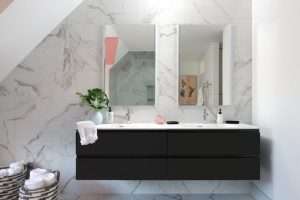 Think About Functionality, Not Just Aesthetics
When renovating for resale, aesthetics are of course extremely important but not at the expense of functionality. When deciding on cabinetry, think about who will be using the bathroom. Is it a bathroom that will only be used occasionally by guests? Will it be a bathroom for children? Is it a powder room? Or, is it the master ensuite? All four options will serve very different purposes and therefore, will have very different storage requirements. A stunning master bathroom that has two pedestal sinks with zero storage, for example, is frankly quite useless! Another thing to consider is whether or not any of the bathrooms have a bathtub. If the home in question is going to appeal to families, a bathtub is a feature you should consider installing. If you already have the tub, we'd encourage you to remove the curtain and rod and have a half-glass wall installed in its place for a clean, contemporary look.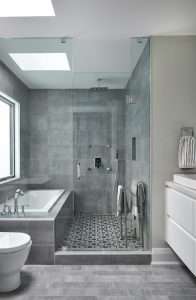 Select Flooring that Makes Sense
Although wood flooring can be done in bathrooms, it isn't necessarily the best choice for a room that's going to see a lot of water and moisture. Ceramic, marble and stone tiles are all incredibly durable and water-resistant choices for a bathroom. If budget allows, subfloor heating coils will make these hard surfaces warm and are a feature that many buyers love.
Invest in Quality
For some things like lighting, accessories, pulls and knobs, it makes sense to economize but when it comes to things that can potentially leak and cause immense damage, buyers are looking for quality. Install high-quality bathroom fixtures as well as toilets with recognizable names like TOTO and Kohler to give buyers peace of mind and reassurance.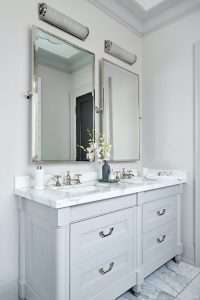 Do Your Research with Countertops
These days, there are so many options for countertops. It used to be the case that granite and marble were the only way to go for high-end bathrooms. Now however, there are beautiful quartzite options that come in a variety of colour combinations with dramatic veins. The beauty of these stones is that although they are natural, they aren't nearly as porous and sensitive as granite and marble to water stains and discolouration. You can also find many wonderful synthetic quartz options or even ceramics, made to look like stone. For resale, it typically makes sense to install something that is beautiful but durable and also somewhat cost-effective.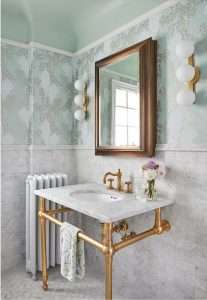 Add some "Wow" Factor
When selecting all the necessary elements for your bathroom, be sure to include something that will make the buyers say, "wow!" This could be something as simple as a stunning mirror, recognizable designer lighting, or maybe it's the intricate tiling you selected for the back wall of the shower. The idea is to give the buyer something that will stick in their memory and have them visualizing themselves getting ready in that bathroom.