Of all the memes we've come across, we probably relate to the lemur coffee memes the most! For that reason, we have become well acquainted with cafés across Toronto so that no matter where we are on any given day, we know where to go for a quick pick me up. Sure, you can always find a Starbucks or some other mega-chain nearby but, when possible, we prefer to support local businesses who, frankly, have better coffee and nibbles in the first place! Here are just six of our go-to cafés  in six different neighbourhoods…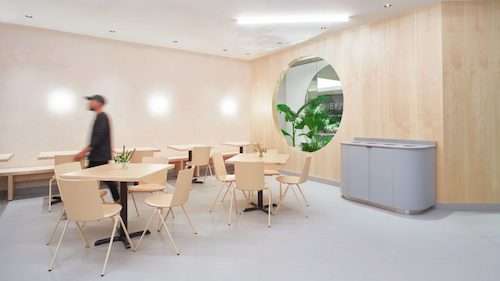 In a very vibrant part of the Queen West neighbourhood where you can find just about any nationality of food that tickles your fancy, you will also find a fabulous café that we have become quite fond of. Early Bird has been serving fabulous coffee for years and, as a result, has built a well-deserved reputation in Toronto within the specialty coffee space. From their Americanos to their lattes, their beverages are rich in flavour and velvety in texture. They have also recently undergone a renovation making it an all the more inviting space for your morning brew, breakfast or brunch!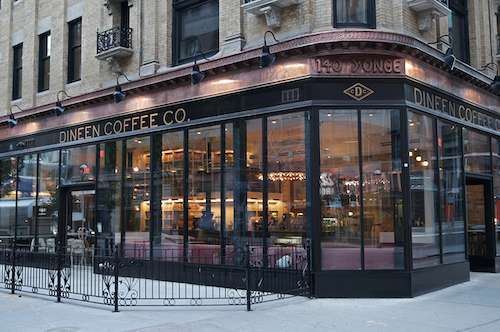 Dineen Coffee, Financial District
If you're feeling blue on a dreary, rainy day, head to Dineen Coffee in the Financial District and suddenly, you will feel as though you've been transported to Paris! Not only do they have delightful coffee but they also offer a beautiful selection of gourmet sandwiches and baked goods. On a sunny day, you can enjoy their patio and watch the world go by. Alternatively, pick up a Dineen coffee to go at their Commerce Court location or Dineen Outpost on Gerard St. East.
Nespresso Boutique Bar, Yorkville
Ok… so we admit, this one is a chain but it is just so lovely, we couldn't help but include it. Beautifully designed with an incredibly chic European aesthetic, you feel as though you're sipping an (N)espressso in Stockholm or Helsinki. When you've finished enjoying your beverage, you may find yourself completely sold on the entire Nespresso concept and can wander to the back of the space to browse their selection of coffees and machines.
Riverdale Perk Café, Riverdale
In Riverdale, just South of the Danforth and around the corner from Withrow Park, you will find this cozy little neighbourhood café frequented by families from the surrounding residential areas. Grab one of their specialty coffees to go, on your way to the park with the kids or sit down to enjoy one of their breakfast sandwiches or salads. Whatever the case may be, you're sure to enjoy all their deliciously prepared and beautifully presented items!
Cherry Bombe Coffee, Roncesvalles
For flavourful coffee made from beans lovingly roasted in Prince Edward County, check out Cherry Bombe Coffee on Roncesvalles Ave. This neighbourhood favourite also offers a selection of delicious baked goods that are made in house such as their jalapeño scones, as well as other more traditional offerings.
Although Boxcar has now expanded to several locations, we are partial to the Summerhill location where it all began! This two-storey Victorian building has been home to Boxcar since 2014 and over the years it's been catering to the neighbourhood in a variety of ways, regardless of their interests. The main area is a lively space where you're likely to run into a familiar face, while the upstairs cafe is great for those looking for a quiet space to work and sip in peace. In the summer, the expansive back patio is a great venue for a drink on a warm night.