If you've ever been out and about, cruising for celebrities during TIFF or been in the mood for some roof-top pool action, you may have found yourself at the Thompson Hotel, in the past. In 2019 however, the hotel closed its doors for good and the property underwent two years of renovations, while Toronto residents speculated as to what might take the Thompson's place. Finally, the wait is over and the property has reopened with a whole new look and under a new name, 1 Hotel Toronto. Sound familiar? If you've traveled to South Beach, New York or West Hollywood, you may have come across the American hotel chain known for its "eco-luxury" hospitality. With the Toronto location's organic interiors of refurbished materials and earthy colour schemes, the best way to describe the look is "woodsy chic." Here's a peek inside…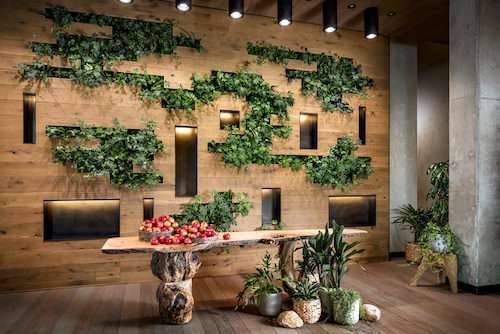 Although a New York-based design firm, by the name of Rockwell Group, played an integral role in the renovation, much of the materials such as the wood, limestone and furniture were locally sourced in Ontario. The result is an aesthetic that feels familiar and home-y but still surprisingly lavish. It's a whimsical take on Muskoka juxtaposed with its urban Toronto surroundings.
With the closing of the Thompson, one of the biggest heartbreaks for many was the loss of the lively lobby bar. Fortunately, the main floor reception opens to Flora Lounge! The space features a stunningly large, dried flower installation behind the bar, which will change seasonally.The sage-coloured upholstery and soft, supple leathers make the area luxurious but desirably understated. The general vibe inspires you to hunker down for the evening with their Pink Vespers and Purple Rain cocktails.
As for the rooms, all 112 of them promise bedsheets and bathroom linens of natural, organic fibres as well as Bamford bath products. To eliminate the need for plastic water bottles in a mini bar, the rooms are equipped with water filtration systems as well as glass tumblers and carafes made from recycled wine bottles.
With regards to the old Thompson Diner, it has also received a full makeover and name change. In its place you will now find a California- style restaurant called 1 Kitchen, which features nutritious, plant-focused dishes. If you go up a couple of floors, you will find another place to wine and dine, Harriet's. This roof-top sushi venue will be open just in time for TIFF, along with the hotel's fine dining option Casa Madera. 
For amenities, you can still enjoy the roof-top pool. Alternatively, you can choose from a curated selection of fitness experiences including strength and conditioning, HIIT, boxing, and more in their state-of-the-art weight training and cardio facilities.