Let's just start by saying that the Fall is a crazy-busy time! Period. Whether you have kids going back to school or not, Fall always seems to be the season in which things pick right back up after the slower pace of the Summer months. It's a busy period but it's also a season that we, as a team, thrive in and look forward to. That said, as much as we love and embrace a certain level of chaos, sometimes as a result, basic tasks are neglected. Clothes wind up being temporarily abandoned at the dry cleaners, we run back into the house last minute to check if we turned off our straightening irons and, at the end of day, we get home and peer into our sparsely stocked pantries and fridges and think, what can I make for dinner with a can of tomatoes, a single egg and half a bottle of chardonnay?! At this point, if we're being perfectly honest, we usually pour ourselves a glass of the chardonnay and order UberEats. That said… in an attempt to reduce mealtime stress and to eat healthier, we've done some research on some of the meal kit delivery services available in Toronto and have been pleasantly surprised. Here's what we've discovered…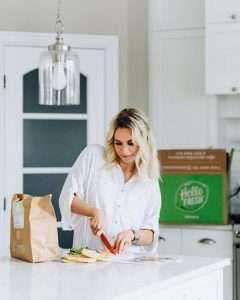 Based on our research, HelloFresh seems to be one of the most popular meal delivery services in the country right now. You can customize your meal plans according to the number of people in your household, as well as the number of meals per delivery. As for menu choices, they offer vegetarian and family friendly meals as well as meals that can meet other dietary needs such as, low calorie and low carb options. By all accounts, the recipes are easy to follow and save you a trip to the grocery store.
Okay so this one we have actually tried and so far, everything has been delicious! Similar to HelloFresh, Goodfood delivers pre-portioned ingredients each week for the recipes you've selected. There are a wide variety of meals that cater to all different tastes and cooking abilities so even if you haven't so much as picked up a spatula in your kitchen, you can master these recipes. Oh and if you're a first-time client, you'll get three meals free!
For those who are really struggling to find the time to eat properly, Fresh City Farms might be the answer. Although you can get delicious meal kits delivered from this site, there is also the option of selecting already prepared meals. Alternatively, if you're a master chef but just find it hard to get to the grocery store, Fresh City Farms also offers produce, meat and dairy products. This company is all about healthy eating!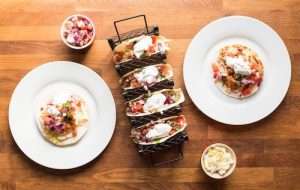 Even if you've never even contemplated a meal-kit delivery service, chances are you've heard of Chefs Plate, as it is one of the better-known options available. There are three different packages to choose from, including a 15-minute meal plan for those juggling an extremely busy schedule! With weekly rotations of menus, there is plenty of selection when it comes to deciding what kits will be delivered to your door. Plus, if you're not in the mood for Chefs Plate on any given week, you have peace of mind knowing that you can skip weeks and save them for a later date. Cancelations are possible at any time and first-time clients get 50% off their first three deliveries.