Whether you've worked with us, seen one of our listings, or been inside our homes, you'll know that we take a passionate stance on florals in a room. If a room needs colour, add flowers. If a space is lacking in personality, add flowers. If a home feels cookie cutter and lifeless, add flowers! There are so many reasons to bring flowers into a home. Many of our clients stress about ordering fancy floral arrangements from pricey, wedding-calibre florists for open houses etc. but the reality is, sometimes the most effective flowers are those that you purchased at the local market around the corner and lovingly arranged yourself! Taking this approach to florals gives a home a less contrived, effortlessly-chic vibe, which is always the goal, no?! So if you're looking to spruce up your space, consider paying a visit to these local floral sources we absolutely adore…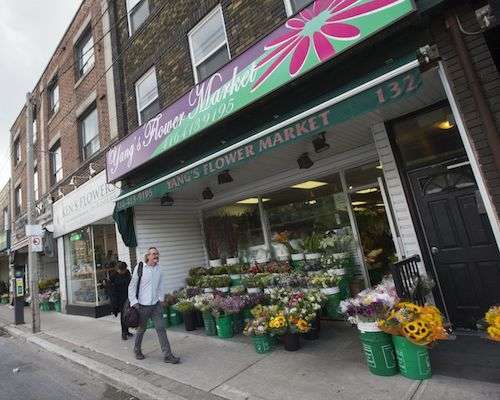 At the famed intersection of Avenue and Davenport, known for its incredible selection of fresh-cut flowers, you will find Yang's Flower Market. If it weren't for the buckets brimming with eye-popping rainbows of flowers out front, it would be easy to walk right by this seemingly ordinary flower market. Inside though, you will find even more selection of fresh-cut florals that are all reasonably priced. Beyond cut flowers though, Yang's tends to carry seasonal, blossoming and leafy branches that, when arranged in oversized vases, promise to take the vibe of your home from Structube to South Hill Home. Looking for succulents or some lovely tulips, perhaps? Yang's has that too. If they don't have what you're looking for however, fret not! You are in the right neighbourhood. All within one block, you will also find several other flower markets such as Jong Young Flower Market and Ken's Flowers, which are also great!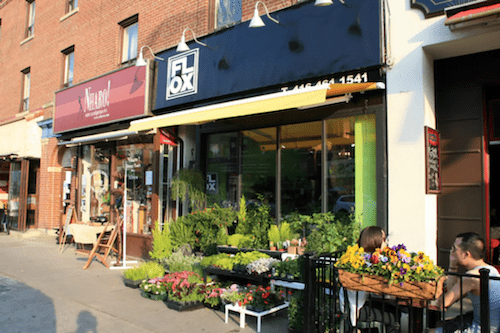 On the Danforth, Flox is an adorable, family-run flower shop that is definitely worth a visit! Along with carrying a wide array of floral arrangements, they also carry locally grown peonies (when in season), as well as cacti, succulents, hanging plants and orchids. Along with being the perfect place to find flowers and plants for inside your home they also offer great options for outdoors whether it's to plant in your garden or simply for some decorative urns. Plus, if you ever find yourself dashing off to a dinner party and in need of a last-minute hostess gift, Flox is open into the evenings making it the perfect solution.
In the young and trendy area of King and Bathurst, it can be difficult to find a simple, good-quality bunch of fresh-cut flowers. Thankfully, King West Flowers provides quick and easy floral solutions. Whether you're looking for something simple to bring home or a last-minute delivery to someone special, King West Flowers can accommodate it all.
If you were to walk by, you might think that Young's Produce, as the name suggests, is a run-of-the-mill store to buy your fruits and vegetables. In reality though, although they do indeed offer a great selection of produce and other groceries, they have a (somewhat) hidden secret! If you walk all the way to the back of the store, you will find a walk-in flower cooler with buckets upon buckets of the most incredible selection of seasonal flowers. Not only will you find flowers to serve as the focal point of your arrangement but also, they carry a beautiful selection of greenery to compliment them.