Toronto's skyline is ever-changing and constantly being redefined as cranes pop up here and there daily and are followed, shortly after, by soaring towers, most of which are condos! A little lower to the ground, things are changing too as developers team up with top architects to create stylish alternatives to detached homes. With the average sales prices of detached homes at an all-time high, due to lack of inventory, many buyers are weighing out their options. For the same reasons, it's a great time for investors to purchase a rental property in the form of a condo or townhome. With this in mind, there are 5 new developments that have particularly caught our eye…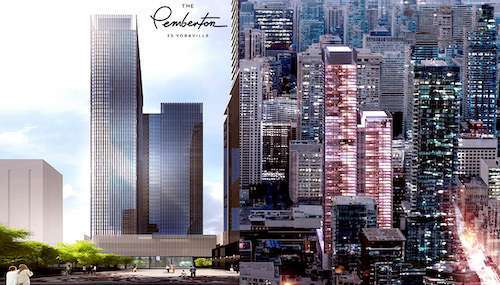 The Pemberton at 33 Yorkville
From the Pemberton Group, at 33 Yorkville you will one day find the tallest, most luxurious and exclusive building that will also be the only one to don the name. Their eponymous development promises immersive interiors by Michael London and the refined, modern aesthetics of Architects Alliance. Located at Yorkville & Bay, 68 storeys containing 1029 units will not only be exclusive but also incredibly desirable from a location standpoint. Close to transit, business centres, shopping, parks and excellent schools, Pemberton is definitely a pre-construction opportunity worth looking into.
The Penthouse Collection at One Delisle
If you've been following along, you'll recognize Toronto's future "artichoke" from a previous post… but it's worth mentioning again! One Delisle promises to refresh Toronto's skyline and also contribute to the revitalization of the Yonge & St. Clair area with architect Jeanne Gang's innovative design and vision. The building will consist of 293 units ranging in size from 308 to 1793 square feet and prices ranging from the low $900,000s to over $2,100,000. More specifically, there are a handful of exclusive penthouses available that have piqued our interest. With a broad selection of amenities (a eucalyptus steam room and a ravine terrace, to name a few), this development is sure to provide luxurious respite from urban life. If you're willing to wait until construction is projected to be completed in 2026, there is still time to get in early…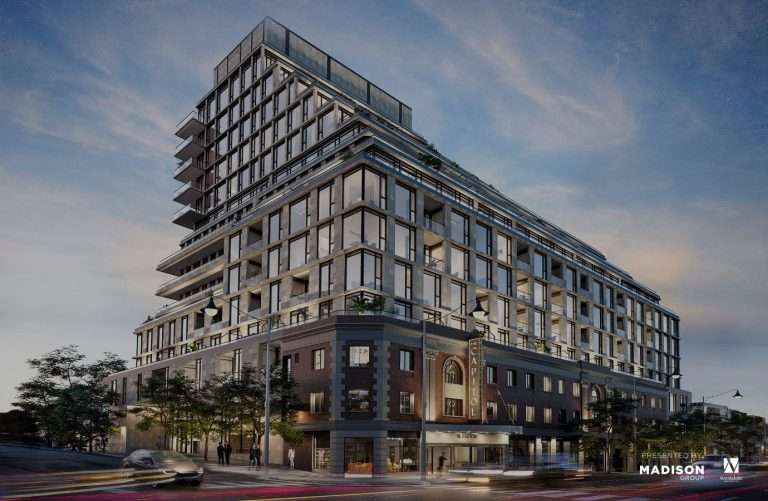 Capitol Residences at 2492 Yonge Street 
At the corner of Yonge and Castlefiled, you will find the Capitol Theatre that is set to become part of a 145-unit condo building to be called The Capitol from the Madison Group and Westdale Properties. With the help of architect Murray Brown, known for high-profile Toronto buildings and, fittingly, the design of Famous Players theatres across the country, the group is working to transform the space while paying homage to the theatre's history. The plan is to retain the original marquee facade, along with the vestibule, heritage attributes and the 1946-renovated canopy structure but rebuild the vertical marquee. Once constructed, the new tower will include one, two and three-bedroom residences in the form of condos and townhomes throughout the 14-storey building. Some units will feature private terraces and oversized balconies and on the ground level, the project will include retail units. Residences will enjoy amenities such as a golf simulator, lounge area, gym, social club and pet spa. The project was launched earlier this year but there is still time to get in early!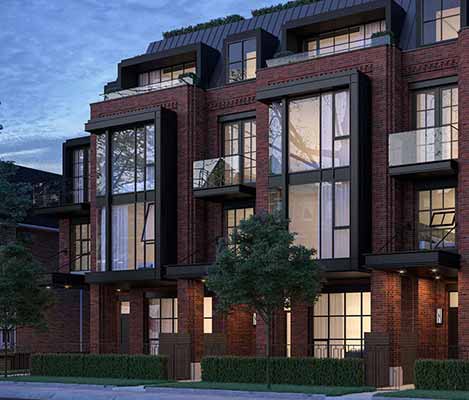 Remaining Suites at 36 Birch Avenue
On 36 Birch Avenue, there is a particularly special project underway with a few remaining suites available. 36 Birch is an exclusive collection of low-rise residences that offer a new way of living in the Summerhill neighbourhood. Urban and lush, industrial yet refined, both the "sky" and "garden" residences consist of ample square-footage, intuitive floor plans and high-quality finishes. Apart from the fabulous nature of the project itself, a wonderful neighbourhood is just steps away with countless charming shops, restaurants, transit and parks. If this project is of interest, now is the time to act as these units won't be available for long.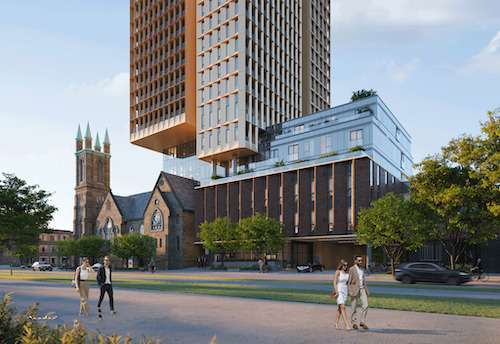 Cielo Residences at 300 Bloor Street West 
Just steps away from the designer boutiques and Toronto's finest restaurants in Yorkville, you will find the newest addition to the Annex, Cielo Residences. Amidst tree-lined Victorian streets, you will one day find a stunning example of architectural modernism, sitting just above a 19th century neo-gothic church and landmark. The 284 units will range from 445 to 1163 square feet and prices will start at $860,000 to over $2,400,000. Along with all the typical amenities we've come to expect in condo buildings of today, Cielo will also feature some sustainable elements that not only help to reduce the environmental footprint of the building but will also be aesthetically pleasing. Green roof areas reduce the heat island effect and help manage stormwater retention on site, bird friendly glazing to reduce harm to migratory birds and motion-detecting LED lighting in common areas are just a few of the examples of builder Collecdev's green initiatives.
For more information on any of these developments, please don't hesitate to get in touch! We are experienced and ready to help you navigate the pre-construction purchase process.