The holidays can be a wonderful time of year! You have the opportunity to catch up with family and friends and also indulge in all the festive treats the season has to offer. It can also be a time to rest and recharge… unless you're the one responsible for hosting and providing all the aforementioned festive treats! While many of us look forward to the holidays, others get bouts of anxiety. There's no question that the to-do list tends to get rather lengthy at this time of year between gifting, decorating, cooking and the like so to aid the process, we like to turn to some of Toronto's finest gourmet grocers! Whether you decide to commit to everything being pre-prepared or simply add in a few pre-made sides or apps, these stores have the dishes to fool any guest into thinking you've been slaving away for hours…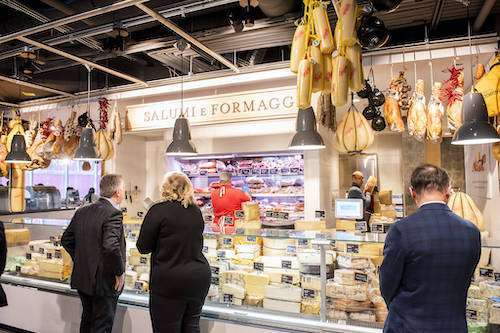 For those who love the Big Apple, it was a welcome addition to Toronto's gourmet grocery scene when Eataly arrived. From tagliere or antipasto boards to sauces, pasta kits, soups, salads and more, Eataly has a beautiful selection of pre-prepared foods that would be a welcome addition to any dining table, regardless of the occasion.
The Cheese Boutique is a well-known establishment amongst West End-ers and, as the name suggests, they have the most fabulous selection of cheeses with incredibly knowledgeable staff. In addition to cheeses though, they can help you add in some charcuterie to your board as well as olives and other antipasto. They also offer many pre-prepared dishes and, a couple of doors over, you can find their baked goods. A platter of their assorted bombe (hazlenut and dulce de leche are our faves) are never a bad idea. 
For party platters and other pre-prepared foods, Nortown Foods is another great option. They offer carved turkeys both smoked and roasted as well as a delicious selection of all the best Jewish comfort foods; Matzo balls, cabbage rolls, potato latkes, beef knish and much much more. Purchase these items individually or select your favourites for a platter.
For those who love the food at any of the Terroni locations, we recommend heading to Stock T.C. In addition to beautiful deserts, salads, charcuterie, wine etc. they also make it incredibly easy to recreate your favourite Terroni dishes with packages of ingredients to do just that… no real "cooking" required, you're really just assembling! 
Although Summerhill Market is by no means a new establishment, it is a good one and we're still surprised when we meet the odd person who hasn't been there. From sliced turkey, sides, pre-made stuffing and plenty of little nibbles perfect for cocktail hour, Summerhill is arguably the best bet for when you really don't feel like cooking but still want something that tastes home-y.
In addition to their catering services and in person- shopping at their grocery stores, the McEwan group has really refined things when it comes to delivery. Choose from a great selection of meal kits, pre-prepared foods as well as meat and seafood grocery boxes that will really take the stress out of entertaining. What makes them a particularly great option is that they cast a large net for delivery areas. They even deliver to cottage country if you're really going for the "white Christmas" theme!
Pusateri's is another OG when it comes to pre-prepared foods. From Italian dishes like Nonna's meatballs to potato sides and easy-to-heat cocktail nibbles, they have everything you need and also offer delivery services. Sometimes we find that their pre-prepared items serve as a great starting point and can be further embellished at home with fresh herbs, grated cheeses and some chic serving dishes.