If you subscribe to our monthly newsletters and have read our previous posts, you'll know that we have talked at great length about recent market trends and hot-button issues. Regardless of the ups and downs of the past few years though, Toronto's real estate market (thankfully) has proven to be incredibly strong and resilient, as shown by the numbers on our monthly market reports. In fact, if you're an Investor, the current market trends should actually come as good news! Here's why…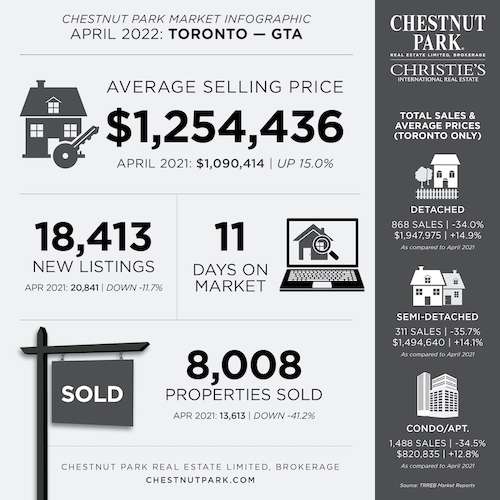 At the risk of repeating ourselves, low inventory, coupled with rising interest rates (which have gone up more than 50% in just over two months) have made the cost of ownership significantly higher. For first-time home buyers and those who were on the fringe of being able to afford a home to begin with, this has either pushed them out of the market completely or, at the very least, caused them to put a hold on buying a home. In addition to this, with the pandemic, population growth accelerated through last year. Lastly, to further complicate things, immigration has increased significantly since the pandemic with almost 50% of more than 400,000 immigrants coming to Canada in 2021 relocating in Ontario and the GTA and more to come this year.
To put it simply, there are a significant number of people in Toronto and the GTA who need places to live and with a vacancy rate of 1.9% in Toronto and even less outside of the city, places to rent are hard to come by and are getting increasingly expensive. So what does all this mean? Now is an incredible time for investors to diversify their portfolios with a variety of rental properties. Condos have always been a great investment in Toronto and will continue to be but we are also seeing a great return on multi-unit. To further illustrate our point, the graphic below shows the drastic jump in rental prices from the first quarter of 2021 to the first quarter of this year. 
To investors who are wary of making a move at the moment due to fears of increasing interest rates, inflation, and general uncertainty of the direction the market will take, there are a couple of positive points that ought to ease your concerns.
The first point pertains to interest rates and inflation. Our brokerage's extensive research suggests that interest rates don't necessarily have a direct effect or correlation with inflation and therefore, will not go as high as we initially thought. When interest rates are increased too much and too quickly, history has proven that this can ultimately lead to unemployment and consequently, a recession. Naturally, the Bank of Canada wants to avoid this.
Second, there are two key points that determine whether a market is strong and robust. The first is the number of days that properties are on the market and the second is the sale price in comparison with the list price. In April, the number of days that properties were on the market was 11 at most (in 1996 this number was 32!) and sales prices were 107% of the list price. 
So what's the take away? Toronto's market is without a doubt strong and robust and the idea that rising interest rates are going to make the housing market more affordable is completely false. There are current home owners looking to cash out and many more actively searching for affordable rentals to live in. Furthermore, the so-called "exodus" from the 416 area code that we saw at the beginning of the pandemic has come to an end and has shifted back to Toronto. As we move into late spring and the summer months, our team looks forward to showing you new investment opportunities that are popping up throughout the city!