Relocating to Toronto can be a daunting task, particularly if you're not familiar with the city. Even if you have visited a few times before, it takes time to get to know the different residential pockets and neighbourhoods and the lifestyles that they offer. With that in mind, as the second part of our relocation series, we have put together a list of five of our favourite neighbourhoods in Toronto. Though there are countless others that could be on the list, we feel that these five have the most to offer for the widest variety of residents and lifestyles. Over the years, we have assisted countless clients with the purchase and sale of their homes in these neighbourhoods and therefore consider ourselves experts and prepared for any further questions you may have…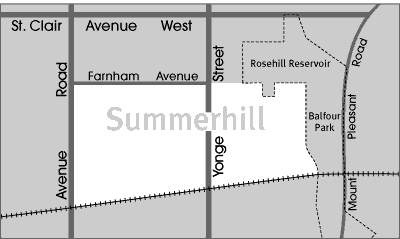 We may be somewhat biased, as many of us live here but we're particularly fond of Summerhill. With a quaint village-y feel, the area is undeniably family-friendly but also incredibly convenient being located close to transit, plenty of shops, grocery stores, parks and wonderful schools. Along the winding tree-lined streets, there are plenty of options for housing including semi-detached and detached Victorian houses and detached Edwardian-style houses. Although many of these homes do not include driveways or garages, permit street parking is available for nominal fees. In addition to this, Summerhill also has modern townhouses and a handful of low-rise luxury condo buildings that are among some of our favourites for both purchase and rental.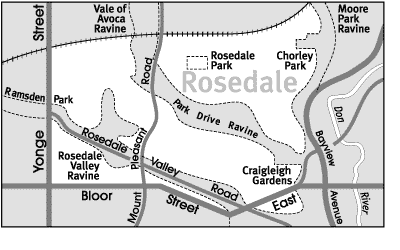 Just around the corner from Summerhill, Rosedale has long been considered one of Toronto's most fashionable addresses, as it is home to some of Toronto's wealthiest and most prominent citizens. Surrounded by beautiful ravines, parkland, major shopping districts and some of the best schools, Rosedale is a unique and wonderful place to live. Though the neighbourhood is known for Victorian, Georgian, Tudor-style homes and Edwardian-style mansions that were built between 1860 and 1940, most of them have undergone incredible renovations and some feature stunning modern additions. South Rosedale also features some condos, co-ops and co-ownership apartment buildings, which offer relatively affordable entry-level dwellings.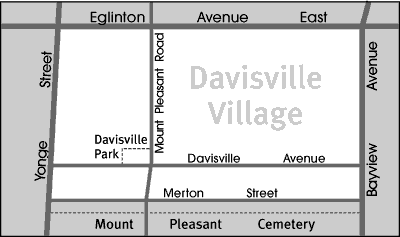 Incredibly central, popular amongst singles, young couples and young families, is the Davisville Village neighbourhood. This part of Toronto features excellent recreational facilities, and shopping and is undergoing revitalization to further improve the neighbourhood hub featuring newly built Davisville Public School and a new aquatic centre, which will be adjacent to the school. The houses in the area are mostly large two and three-story English Cottage and Edwardian-style homes and there are also a number of duplexes and walk-up apartment buildings in this area. In addition to this, there are also several newer condo buildings, which offer more urban lifestyles.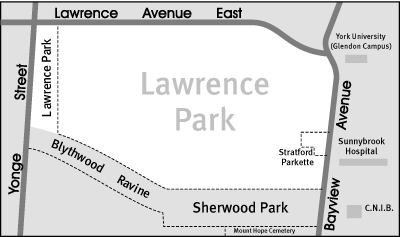 Located in a peaceful setting nestled amongst rolling, hills, winding roads and beautiful parks is Lawrence Park, another one of Toronto's most exclusive residential neighbourhoods. Located close to shopping, excellent school and recreational facilities but on the peripheries of the neighbourhood, traffic on the residential streets is minimal. It's a strong family-oriented neighbourhood and has easy access to not only transit but also highway 401. With a mix of English Cottage, Tudor Revival, Georgian and Colonial style designs, Lawrence Park's homes are whimsical and varied, making it a great place to find a home that blends old with new.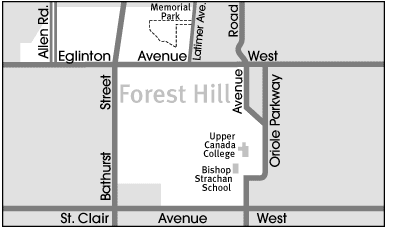 Last but certainly not least on the list is Forest Hill, another one of Toronto's most prestigious districts. In Lower Forest Hill, there are mansions, rivalled only by those in Rosedale and throughout the neighbourhood are some of the best schools in the country, including Upper Canada College for boys and Bishop Strachan School for girls. An incredibly pretty district with sloping hills, winding roads and plenty of parkettes, the neighbourhood is private and family friendly but also conveniently located with Forest Hill Village and other shopping districts nearby.
Have more questions about these neighbourhoods or are curious about a different area? Get in touch. Also, be sure to stay tuned for our next post, which will cover school districts for those relocating with children.