As much as The Penzo Team loves a camera-ready, picture-perfect room, above all else, we are obsessed with the way a space makes us feel. As a team, our focus is bringing meaning to the idea of home by helping our clients find places to live that feel deeply personal. 
Over the years, alongside our interior design and design + build partners, we've had the privilege of working with a number of clients to find their homes and customize them to suit their needs and lifestyles. We have taken great joy in watching these friends and clients go on to celebrate many firsts and share love, laughter and memories in these private oases they call home. At the end of the day, creating the ideal home has little to do with choosing the perfect paint colours or fabrics. It's about creating a space where your loved ones can find a sense of belonging and safety.
For the lucky ones, this idea of home is so often tied to family and, most importantly, mothers! So this year, to honour, celebrate and remember all the mothers, mother-like figures, grandmothers, hopeful and expecting mothers in our community, we wanted to introduce some of the inspirational women and children we have worked with who have helped define our idea of home.
Today, in the first of this two-part series, we'd like you to meet, Kate, Natalie, Olivia, Casey and their children to learn a little bit about their lives, their thoughts on raising kids and how they will be spending Mother's Day.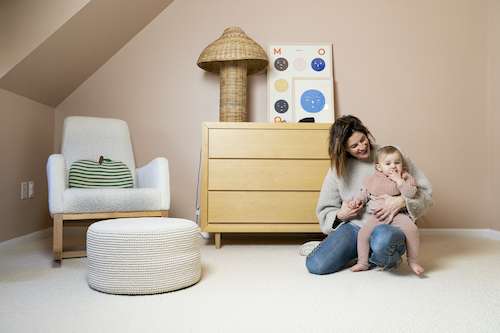 Meet Kate! Kate is a freelance communications consultant and mother of 1-year-old Arlowe and 6-year-old Waylon. As a team, we helped Kate and her family find their current home.
If you could go back and give yourself advice as a first-time mom, what would it be?
One day at a time.  Scratch that…one hour at a time.  Be much much kinder to yourself because you've got this!   
Now that you're a mother, what do you admire most about yours? 
I admire a lot about my mom but what comes to mind is her strength of character.  While she always has my back and is a blast to be around, I truly admire her integrity, values and courage to make really hard decisions when the easier route is keeping life status quo.  
What does the ideal Mother's Day look like for you?
Last year, Natasha and I ran the Sporting Life 10k on Mother's Day. Arlowe was 3 ½ months so making the full 10k felt so great.  The sun was shining, our families were cheering us on, and we had so much fun running together as mothers and friends.  We are going to run it again this year and I plan to have a glass of wine after and spend time with my family in the afternoon. Maybe squeeze in a mani-pedi somewhere in between!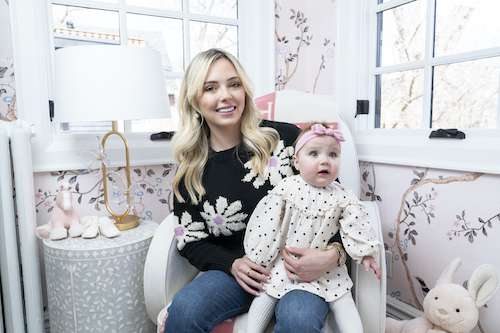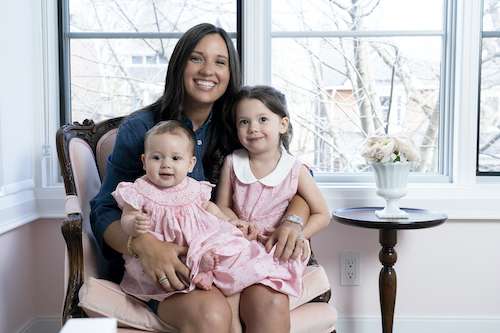 Meet Olivia! Olivia is a family member of our team, as the wife of Urban Blueprint co-founder Luca Penzo! Together they live in Riverdale and have two little girls, 3- year-old Capri and 8-month-old Georgia, with whom Olivia is currently enjoying maternity leave.
What's one piece of advice you have for first-time moms?
I'm super organized and a planner by nature so it took me some time to realize that with a newborn, not everything is going to get done and that's ok! To new moms, I urge them to set the dishes and laundry aside and take time to enjoy the snuggles, as that time flies by so fast. 
What's your favourite thing to do as a family?
On weekends when we're all together, we make it a priority to plan activities and outings. We love seeing our girls' reactions to new and first experiences! Although the girls may not remember every experience when they are older, our hope is that, at the very least, when they think back to their childhood, they remember a sense of happiness and security from time spent together as a family.
What does the ideal Mother's Day look like for you?
I hope to have a day with no screens, a nice brunch and a long walk with my family… and maybe even a quiet mani-pedi, if time allows!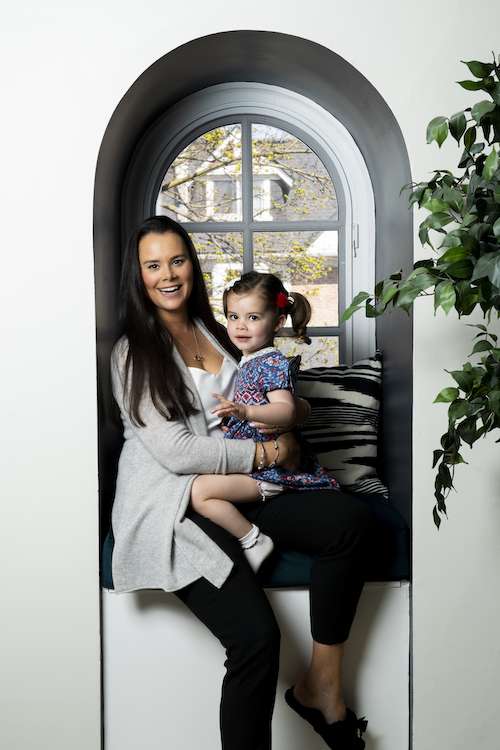 Meet Casey! Casey is a proud Deloitte employee and a recent Urban Blueprint client with the completion of some fabulous design and reno. projects! More importantly, she is a mother to two-and-a-half-year-old Faye, who is her pride and joy. 
If you could return to those early days with Faye, what advice would you give yourself?
KEEP PERSPECTIVE! Don't let it feel so all-encompassing. When people tell you, "It's just a phase," they are SO right! All the trials and tribulations that come with having a newborn eventually become distant, inconsequential memories.  Keep your chill and remember that the little 7-pounder you're holding will soon be flying around playing with her dolls, riding her scooter, and trying to braid your hair! Have as much fun with it all as you can, or what's the point?!
What's the hardest thing about raising a child?
The unrelenting commitment that is required and realizing that you will never be a top priority again. It's a huge shift in how you live your life and what you focus on and think about. It's fundamentally wonderful but it can be hard to adjust to at first.
What does the ideal Mother's Day look like for you?
I'm shockingly super low maintenance when it comes to this sort of thing!  A card drawn by Faye would make me so happy! I have an amazing and supportive husband though who always does fun stuff so I consider myself very lucky.